Született / Date of birth: 2016. September 25.
Szín / Colour: MCO n 22 09 – Fekete kl. cirmos fehérrel / Black cl. tabby with white
Szülők / Parents: CH HU*Beloved Dreamcoon Sabine & IC Morty Viktoria Pride, CZ
Infinity tesztjei / Tests of Infinity: HCM, PKD, SMA N/N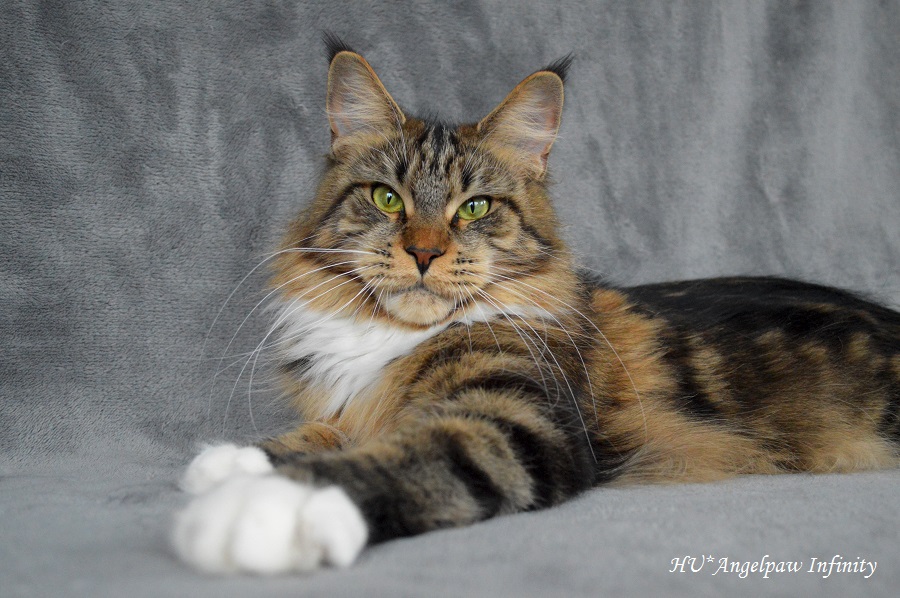 Infinity Sabine és Morty nászából született. Nagyon szép keveréke lett anyának és apának. Sikerült csupa jó tulajdonságot örökölnie.
Izgatottan vártuk a fejlődését és a kiállításon való szereplését. Az első kiállításán, ahol már felnőtt kategóriában szerepelt (pedig épphogy korban elérte azt)  jelölték a Best in Showra. Vannak olyan cicák, akik igazi modellek és nagyon jól mutatnak fotókon is. Infinity pont nem ilyen. A képeken nem jön át az a kisugárzás, mely élőben látható. A legszebb profilú cica a tenyészetünkben, jó a testfelépítése, és figyelemre méltó boxa van.
Nagyon cuki, bújós cica lány, a farkával szeret megölelni és lefekszik a földre egy-két simogatásért, éppen úgy, ahogy egy kutya. Az összes cica tudja már a tenyészetben, ha Infinity jutalomfalatot kuncsorog, mindenkinek jut egy-egy jó falat.